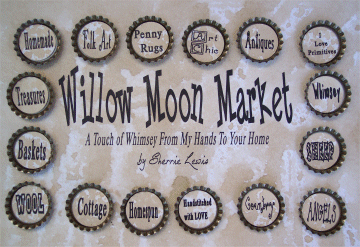 Welcome! After a year long sabtical, I am back creating ART. I have been busy designing all new one of a kind gifts and decor. If you see it in the catalog or Ebay get it quick, rarely do I make 2 of a kind. My original and unique folk art pieces can be purchased from my catalog. Many of the items in my catalog are Postage PAID for USA buyers so check the description for details. My online catalog is growing by the week, so keep checking back with me often.
Watch my Ebay auctions as I have many new ornaments for all the seasons of the year, as well as ornaments for year round use. My ornaments are perfect for pegboards, knobs and trees (Great for gifts too!).

For decades Sherrie Lewis has been delighting buyers and inspiring artisans with her wide variety of handcrafted items~ from primitive ornaments and stitcheries to bright and colorful painted and decoupaged furniture. Sherrie uses many recycled elements and natural items in her finished products. Her decorated gourds and gourd birdhouses are displayed in homes (and hung in trees!) all the way from California to New York and England to Japan.

See all my published projects in Country Marketplace Nov. 2003, August 2004, September 2004, October 2004, December 2004, February 2005, June 2005 August 2005, October 2005,June 2006 issues. The Halloween 2005 issue of Pack-O-Fun for pumpkin lights. Click on Published art at the left of the page. This is only a sampling of my published items. To see more pick up your magazines today.
Click here to view my items for sale on Ebay




Copyright © 1995 - 2009 by Sherrie Lewis
Content and Design by Sherrie Lewis
All trademarks used are properties of their respective owners . All rights reserved.